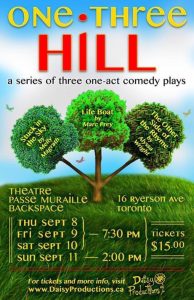 One Three Hill (2016)
Produced by
Playwright: Melly Magrath and Marc Prey and Alyssa Wright
Directors: Melly Magrath and Candace Meeks and Melly Magrath
Venue
Theatre Passe Muraille Backspace

Run
October 8th, 2016 – October 11th, 2016
Synopsis
A series of three one act comedy plays.
Stuck in the Sky
:  Inspired by
No Exit
, this zany play takes place in the CN Tower elevator when it malfunctions. Being stuck in a cramped space with four total strangers for 20 minutes will really show your true colours
Life Boat
: A romantic comedy involving two strangers who wake up from a night of partying on a cruise ship to discover they are in a lifeboat, adrift at sea. Although initially appearing to be oil and water, they eventually find enough common ground to become friends – and perhaps more.
The Other Side of the Rhyme
: They weren't always innocent and they weren't sweet. Those nursery rhymes of your childhood hide some naughty and scandalous stories, some of them even give the celebrity headlines of today a run for their money. Join the citizens of nursery and see why Mother goose made her fame and fortune writing about them. 
(blogto.com)
---
Cast
Creative Team
Production
---