About
What is the Toronto Theatre Database?
Have you ever been to a show and recognized an actor, but could not remember what you had seen him or her in? You check their bio in the program, but you haven't seen any of the shows mentioned there.
That is the exact experience that gave birth to the idea of the Toronto Theatre Database.
Our goal is to keep an neurotically exhaustive record of every single show ever staged in Toronto. Not only do we want to detail what is currently playing in Toronto, but we also want to create a historical record, an archive, that is easily accessible to you, the public.
Why Toronto? Because that's where all of the staff are based. We would love to make the site include all Canadian theatre, but it is simply too big a job for a small handful of people to do. In a few years, however…
David Fisher
General Manager
David is an actor and technician living in Toronto. Originally from Ottawa, he has been involved in theatre since the early 1990s, originally as an actor and then later as a techncian. He graduated with Canterbury Highschool for the Arts, and moved to Toronto to study acting at Toronto Metropolitan University. He ended up studying in both the acting program and the technical theatre program, and graduated with a Bachelor of Fine Arts in Technical Theatre in 2008.
David has worked on a large number of productions across Toronto, largely as a technican. He is currently the mainspace technician at Theatre Passe Muraille. In David's former life, before theatre, he was a competitive flatwater kayaker, who won a number of medals at the national level.
---
Meghan Speakman
Associate Content Manager
Meghan began her theatrical journey as the production manager of the Four Person Play Theatre located in the Speakman Family living room.  After exploring the world of acting in various young companies and school productions, she found herself drawn backstage once again and moved to Toronto to study technical theatre at Toronto Metropolitan University.
Meghan graduated university with a Bachelor of Fine Arts in Technical Theatre in 2009, and is now an Equity stage manager.  She can be found stage managing shows in Toronto, or at theatres across Ontario.  In her life away from theatre, Meghan is also an avid fan of science fiction, and board games.
---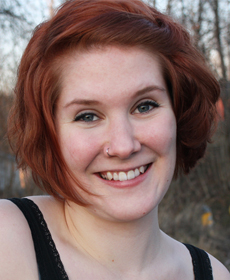 Linn Øyen Farley
Website Designer
Linn Øyen Farley is a freelance web designer and developer with a degree in technical theatre. She specialises in building beautiful and accessible websites for small businesses, fellow freelancers and arts workers, and believes in enabling even the most non-technical people to take control of their own site post-launch.
She gets disproportionately excited about a lot of things, including IKEA furniture, to-do lists, BBC programming and bacon-related cooking.
You can see her work and get in touch at drollic.net.
---
Theatre Museum Canada
Theatre Museum Canada celebrates and preserves Canada's rich theatre legacy. Besides caring for a growing collection of theatre artefacts, its programs include temporary exhibits at the CNE and the Macdonald Heaslip Walkway of Theatre History at Hart House Theatre. Its most popular program is the Legend Library of videotaped interviews conducted by R.H. Thomson exploring Canada's theatre and posted online at: www.TheatreMuseumCanada.ca. Planning is underway for a new year-round home at King and Blue Jay Way, part of the King Blue Condominium, Retail and Hotel complex.
---