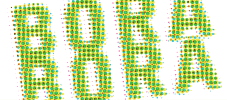 Bora Bora Dance and Visual Theatre
Established
2011
Artistic Director: Jesper de Neergaard
Administrator: Jette Skjoldborg
July 1. 2011 Entré Scenen moved to Brobjergskolen and took over the dance stage – now called Bora Bora. The official opening was 17. and 18. of February 2012 with the performance "This Door Is Too Small (for a bear)"
We present, produce and co-produce national and international performances, organize festivals, conduct laboratory experiments and initiate residencies and workshops.
Through exchanges with partners in different networks across Europe, we want to show our audience the newest and freshest in visual performing art. We also work together with partners to internationalize production possibilities for a wide range of artists locally and nationally. We facilitate contact between the Aarhus audience and European artists, and between the artists in general.
Festivals are an important part of Bora Bora. Through festivals – almost like residencies –  the audience meets artists from different countries, exchange views, experiences and sometimes begin long-lasting cooperations.
With the opening of Bora Bora, Entré Scenen starts a new era. An era as a production house of dance and visual theatre.
(bora-bora.dk)
Website
---
Produced by Bora Bora Dance and Visual Theatre
Current Staff
---