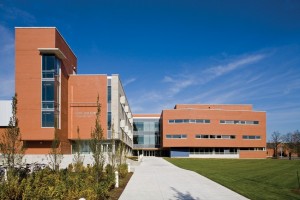 Father John Redmond Catholic Secondary School and Regional Arts Centre
Principal: Lisa Tomeczek
The fundamental mandate of any Catholic school is to create a strong, rich Catholic environment, which is faithful to the philosophy and beliefs of the church. At Father Redmond Catholic Secondary School, we have attempted to fulfill this responsibility by:
• Hiring strong, caring, supportive staff
• Fostering cooperation, consideration and mutual respect among administration, staff, support staff and students
• Making staff and students aware of the importance of modeling and giving witness to Catholic Christian behaviour and attitudes
• Encouraging participation by all students in such activities as food drives, community volunteerism and school liturgies
• Encouraging students to set aside time for personal prayer
• Seeking feedback from the internal and external community to gain some insight into the degree to which we are succeeding in the fulfilling of our obligation.
Father Redmond Catholic Secondary School and Regional Arts Centre offers a varied co-curricular program. We participate in most athletic activity sponsored by the TDCAA . Each year we put on a musica,dramatic performance, singing and dancing performance and other shows put on by our RAP students. The school participates in Sears Drama Festival every year. Some of the other activities include debating, public speaking,  yearbook, school newspaper and language clubs.
Father John Redmond is also one of three Congregated Advance Placement Centres in the TCDSB.
At Father Redmond Catholic Secondary School, we firmly believe that our mandate is best fulfilled by a strong curricular and co-curricular program rooted in a clear Catholic education philosophy which has as its goal the spiritual, intellectual and social development of the entire person while recognizing the unique needs of each individual.
(tcdsb.org)
Website
http://www.tcdsb.org/schools/fatherjohnredmond/Pages/default.aspx
---
Produced by Father John Redmond Catholic Secondary School and Regional Arts Centre
Current Staff
---