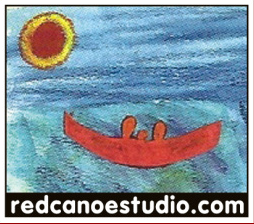 Red Canoe Studio
Founder: Kim Brodey
Founder: Jerry Brodey
Red Canoe Studio  was actualized when we renovated the back building behind 57 Devon Road in Toronto's east end.  It used to be an old tool and die company and before that in the late 1800s, a cider house. In otherwords, a meeting place.
Red Canoe Studio is a resource for community events, healing arts programs, personal growth, mentoring services as well as a creative place where people gather for ceremonies, peace circles, salons, guest lecturers, concerts, poetry readings, social justice workshops, movement classes, qigong sessions and more.
If you are interested in finding out about what we offer, peek inside.
We hope one day you'll join us. You may even want to rent the studio for an event you've dreamed of  organizing.
(redcanoestudio.com)
Website
---
Produced by Red Canoe Studio
Current Staff
---