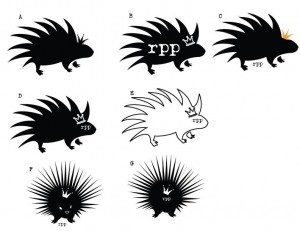 Royal Porcupine Productions
Artistic Director: Adam Bailey
General Manager: Jonathan Brett
Founded by Adam Bailey and Tanya Rigley, Royal Porcupine Productions motto is producing prickly plays. We tend towards darker, issue focused comedies and dramas with the goal to make our audience think as well as be entertained. Our focus, as a company, is on the development of the director, designer and actors' voices.
To achieve this we work on proven, yet challenging material while still providing something new for our audience, sourcing scripts from unusual theatre centers to create our own Canadian productions from them.We have produced five Toronto premiers consisting entirely of local casts and crews, increasing our participation in global theatre and "keeping Toronto up to date" (Eye Weekly; April 19 2008). Our script selection has been touted as "thoughtful, brave choice(s) of play for the emerging theatre company, who are obviously unafraid to tackle challenging works." (Now; April 25, 2008). This has allowed us access to a variety of local artists who wish to expand their talents working on challenging material.
Such artists include Andrew Lamb, Rosemary Doyle, Lada Darewych, Daniel Krolik, Leah Wahl, Cydney Penner, Ryan Ward, Marika Schwandt, Jennifer McDonald, Jeremy Lapalme and Peter Jensen as well as many others. RPP is proud to have it's 10th full production as part of the 25th Toronto Fringe Festival; Saint Francis Talks to The Birds by David Ives.
(royalporcupineproductions.com)
Website
http://royalporcupineproductions.com
---
Produced by Royal Porcupine Productions
Current Staff
---