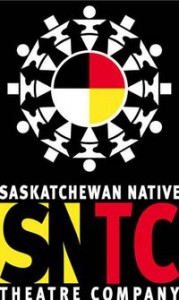 Saskatchewan Native Theatre Company
Artistic Director: Curtis Peeteetuce
General Manager: Alan Long
Mandate
Saskatchewan Native Theatre Company (SNTC) is an award-winning theatre company based in Saskatoon, Saskatchewan.  Since inception in January 1999, SNTC strives toward a mandate demonstrating an Aboriginal paradigm in the performing arts.  Our responsibility as an Aboriginal arts organization is to community, one that validates the cultures and traditions of First Nations, Metis & Inuit peoples.  It is therefore the obligation of SNTC to produce and present innovative cultural theatre experiences that encourage and enhance that notion of community. SNTC programming includes children, youth, mentorship and professional practice, thereby contributing to a raised profile of Indigenous people in an endeavour to a better quality of life for all.
SNTC's objectives reflect the essence of the organization:
To embrace the knowledge and teachings of Aboriginal culture and tradition as the foundation of SNTC programming;
To provide opportunities for Aboriginal theatre art to be created, developed, and presented;
To promote positive images of First Nations, Metis and Inuit people and the cultural  performing arts;
To create partnerships and use mentorship to promote growth and development concerning an Aboriginal contribution to the performing arts in Saskatchewan.
Vision Statement
The vision of SNTC is to cultivate a vibrant Aboriginal theatre community in Saskatchewan of diverse artists in every artistic activity by incorporating Aboriginal culture and language into all aspects of SNTC theatre practice.
(sntc.ca)
Website
---
Produced by Saskatchewan Native Theatre Company
Current Staff
---