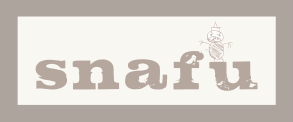 SNAFU Dance Theatre
Established
2006
Co-Artistic Director: Ingrid Hansen
SNAFU Dance Theatre was founded in November 2006 in Victoria, BC, by Victor Dolhai, Ingrid Hansen, and Sarah Jane Pelzer, to collaboratively create original live theatre to invigorate and challenge people of all ages.  The company is steered by co-artistic directors Kathleen Greenfield and Ingrid Hansen, with an ever-growing roster of multidisciplinary artists to collaborate with.  Our work emphasizes communities and individuals who have been marginalized, oppressed, ignored or forgotten.  SNAFU fosters an openhearted, anti-oppressive, queer-positive environment for creative risks.
We invite our audiences to be honored guests and active participants in each event regardless of age or circumstance, and have recently begun collaborating with sign-language performers and inviting the Deaf Community to our shows.  We build our shows almost exclusively from second-hand materials, to showcase the creative potential of reusing dumpy old things.
We have since created 10 original full-length shows, 6 site-specific shorts, 5 tours, and 2 sign-language performances.  We work in both traditional and unconventional spaces, including bike trails, regional theatres, bathrooms, national heritage sites, parking garages, art galleries, and prisons.  We love to tour, so ponder the option of bringing us to perform or teach at your bike trail, theatre, bathroom, school, prison, or parking garage …
SNAFU has performed original work at events curated by Suddenly Dance, The Belfry Theatre, the SummerWorks Festival, ITSAZOO Productions, The Great Canadian Theatre Centre, The Vancouver Fringe, Centaur Theatre, The Calgary Animated Objects Society, The Phoenix Theatre, and the PUSH Festival.  We are based in the West-Coast Utopia that is Victoria, BC, where we have ongoing collaborations with Theatre SKAM, William Head on Stage, The Belfry Theatre, Suddenly Dance, and The Homegrown Collective.
(snafudance.com)
Website
---
Produced by SNAFU Dance Theatre
| | |
| --- | --- |
| The Merkin Sisters | July 5th, 2018 – July 14th, 2018 |
| Interstellar Elder | July 7th, 2017 – July 15th, 2017 |
| Snack Music | January 7th, 2015 – January 17th, 2015 |
| Kitt & Jane: An Interactive Survival Guide to the Near-Post-Apocalyptic Future | July 2nd, 2014 – July 11th, 2014 |
| Pretty Little Instincts | August 5th, 2011 – August 13th, 2011 |
Current Staff
---