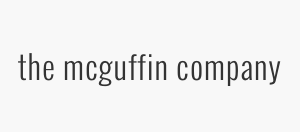 the mcguffin company
Producer: Alison Lawrence
Producer: Mary Francis Moore
The mcguffin company is a collective that has been in existence for over fourteen years;
the artistic principals and co-producers are Alison Lawrence and Mary Francis Moore. The
mcguffin company was first formed to produce Alison Lawrence's solo play Biff at The
Gathering Festival in Toronto in 1996. Mary Francis joined with Alison a few years later and
together they have produced or co-produced a number of Fringe, Summerworks and Rhubarb! shows: the original production of bittergirl at the Rhubarb! Festival; Flush at the Toronto Fringe; Going for Groceries at the Summerworks Festival; and most recently their sold-out, critically acclaimed production of The Catering Queen, first at the 2006 Toronto Fringe Festival and then in its equally successful remount at the Tarragon Extra Space in 2009. Both bittergirl and The Catering Queen have gone on to be published by Scirocco Drama.
The mandate of the mcguffin company is to produce new independent Canadian work featuring women of all ages, with an emphasis on the actor and the writer.
The company's motto:  Theatre that plays with words.
(mcguffincompany.com)
Website
---
Produced by the mcguffin company
Current Staff
---