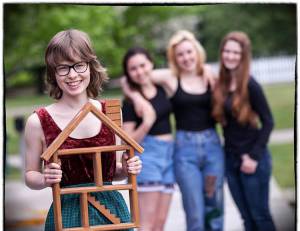 Tiny House Productions
Tiny House Productions was founded in September of 2013. Artistic director Glenys Robinson was seventeen at the time, and a passionate theatre student at Arts Alexander Mackenzie High School. All of the artists currently involved in the company, including Robinson, are emerging artists, nineteen years of age and under. Tiny House represents the first stage in our careers in Toronto theatre. This Play Is Like _____, which premiered at the Paprika Festival 2013, is our company's first production. In the future, we hope Tiny House will become a permanent not-for-profit company in the Toronto theatre community. We will continue to strive to showcase work surrounding world issues – specifically social and environmental – and multicultural art forms.
We dream of eventually having our own performance space, as well as a greenhouse/garden space to act as a community garden. This garden would serve as a tool for teaching sustainable farming and embracing food justice within the urban environment.
(thisplayislike.wordpress.com)
Website
http://thisplayislike.wordpress.com/tiny-house/
---
Produced by Tiny House Productions
---