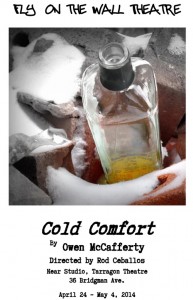 Cold Comfort (2014)
Produced by
Playwright: Owen McCafferty
Director: Rod Ceballos
Venue
Run
April 24th, 2014 – May 4th, 2014
Synopsis
Conversations with our parents.  There are those we have around the kitchen table.  There are those we have in the car.  And there are those we have late at night.  But there are those that we never have.  Because of fear.  Because of what those conversations might reveal about our parents or about ourselves…
Cold Comfort tells the story of Kevin Toner, a bricklayer living in a self-imposed exile in England, who returns to Belfast after a 15 year absence.  He has a bone to pick, and he is determined to have a conversation with his father that will leave no stone unturned.  In fact, this is going to be the first meaningful conversation they will have ever had together.
There's only one problem. His father is dead.
And lying in a coffin in the front room.
A Room.  A Dead body.  Nowhere to Hide. (flyonthewalltheatre.ca)
---
Cast
Creative Team
Production
---