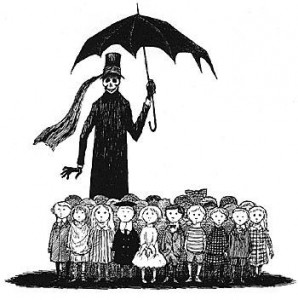 Gorey Storey (2006)
Produced by
Author: Edward Gorey
Adapters: Matthew Romantini and Christine Horne
Director: Erika Batdorf
Created by Erika Batdorf, Matthew Romantini and Christine Horne, in collaboration with the company.
Venue
Artists' Play Studio Theatre (290 Carlaw)

Previews
October 29, 2006
Run
October 31st, 2006 – November 27th, 2006
Awards & Nominations
4 Dora nominations, including Outstanding Production
Synopsis
Gorey Story is a show about the extremes of neglect and human denial. How many of life's events can we ignore?
The play is adapted from The Gashlycrumb Tinies a darkly comic ABC by Edward Gorey, famous for his animated introduction to the PBS program Mystery!
Directed by Dora-nominated Erika Batdorf, associate playwright at CanStage, Gorey Story is an actor-driven physical and visual work that uses space and the body to bring Edward Gorey's macabre and hilarious illustrations to life. The concept and original text was adapted by Christine Horne and Matthew Romantini and the play was created in collaboration with Erika Batdorf and the company.
(thistleproject.ca)
---
Cast
Creative Team
Production
---