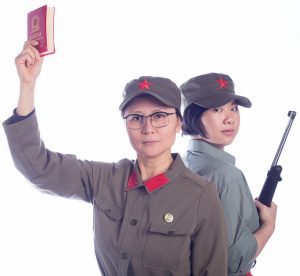 Madam Mao (2016)
Produced by
Creators: Paul Thompson and Janet Lo and Samantha Wan and Severn Thompson
Director: Severn Thompson
Venue
Tarragon Theatre – Extra Space

Previews
June 2 & 3, 2016
Run
June 2nd, 2016 – June 19th, 2016
Synopsis
In a Bejing jail cell, a young official is drawn into the telling of Jiang Qing's story. Known in the West as Madam Mao, the widow of Chairman Mao was once the most powerful and feared woman in the world. Now a political prisoner, she relives her life, replete with idealism and contradictions.
Born into poverty, Jiang Qing rose to power and then used propaganda art as the means of controlling a nation. With her sights set on becoming the next ruler of China, her quest for power led her to destroy the lives of hundreds of thousands of her real and perceived enemies. Was she driven by revenge and ambition? Has she been vilified by historic perspectives?
Incorporating Revolutionary choreography, and underscored by a live musician, Madam Mao exposes the life of a woman who the Chinese are eager to forget and who North Americans never really knew.
(azureriver.wix.com)
---
Cast
Creative Team
Production
---