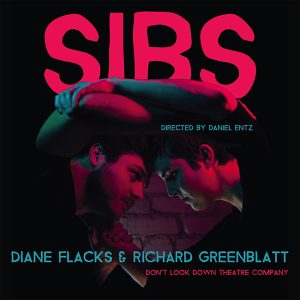 Produced by
Don't Look Down Theatre Company
Playwrights: Diane Flacks and Richard Greenblatt
Director: Daniel Entz
Venue
Bob Nasmith Innovation Backspace

Previews
December 5th, 2019
Run
December 5th, 2019 – December 15th, 2019
Synopsis
Sibs chases a pair of siblings through their turbulent and intense history.
We see them fall in and out of the present moment, watching them here and now where they are forced to deal with their father's estate, but we also see the pieces of their childhood that play into their jokes and biting remarks.
Everything they've lived together is shown to us: love and heartbreak, affection and anger, bonds created and tested, all felt in the visceral way only siblings feel.
From infancy and adolescence to adulthood and beyond, their journey is intimately played out, accented and informed by live music and soundscapes.  (stage-door.com)
---
Cast
Creative Team
Music
Production
Staff
---