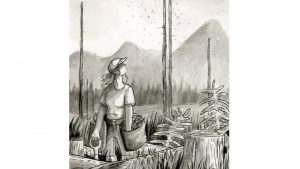 Things the Trees Taught Them (2019)
Presented by
Creator: Meg Webster
Director: Jade O'Keeffe
Venue
Run
July 5th, 2019 – July 14th, 2019
Synopsis
A play about the Canadian Rite of Passage: tree planting.
The audience will be brought into the world of tree planters: sore feet, extreme dehydration, being amongst "regular civilization" on day-off and the rookie stare.
Join us as we plunge into the depths of questioning everything, wondering about humanity and spending ten hours in wet boots, all while going into survival mode just to get through the day.
We promise you will come out the other end, a little worse for wear, but more alive. This will be the best worst experience of your life. (fringetoronto.com)
---
Cast
Creative Team
Production
---