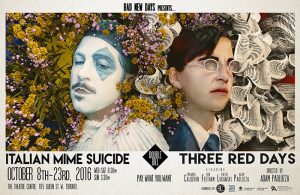 Three Red Days / Italian Mime Theatre (2016)
Produced by
Director: Adam Paolozza
Created by the company.
Venue
The Theatre Centre – Franco Boni Theatre

Run
October 8th, 2016 – October 23rd, 2016
Synopsis
A mime jumps off a building in Rome claiming no one appreciates his art. After an absurd interrogation, Russian composer Shostakovich spends three anxious days in his cramped Moscow apartment awaiting imminent arrest.
Based on two laconic anecdotes from the life and death of two very different artists, Italian Mime Suicide//Three Red Days is an experiment in storytelling using music, gesture, and image to express that which exists outside of the spoken word. It is conceived as a double bill where two poetic pieces resonate against each other in a lyrical, philosophical meditation on the relationship between art and politics, the comic and the tragic and between profundity and laughter. (theatrecentre.org)
---
Cast
Creative Team
Music
Production
---