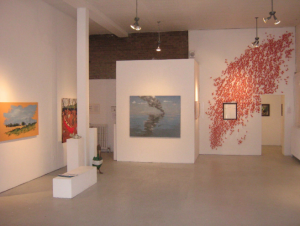 Gallery 1313 – Main Gallery
Address
1313 Queen Street West
Toronto, Ontario
M6K 1L8
Gallery 1313 welcomes proposals from collectives, artist groups, and individual artists. The space can be rented out for events, both private and public. All events held at gallery 1313 are subject to review, and must be accompanied by a proposal. Exhibitions run for a two-week period, although longer shows may be arranged. The gallery charges a rental fee, but encourages artists and groups to seek out project grants from various government and art funding agencies to cover all or some of their costs. Gallery 1313 does not take commission for the sales of art.
Gallery 1313 has Four Distinct Exhibition Spaces
The Main Gallery
Suitable for larger exhibitions, panel discussions, artist talks, small conferences, launch parties, receptions and more. The Main Gallery can accommodate up to 90 people seated and up to 120 people standing.
Main Gallery artists are expected to assist in the sitting of the show on weekends.
1300 square feet, 14 foot-high ceilings and halogen lighting
http://g1313.org/rent-the-space/
---
Recent and Upcoming Productions
Current Staff
---