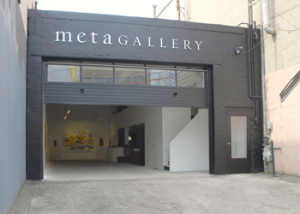 Meta Gallery
Address
124 Ossington Ave.
Toronto, Ontario
M6J 2Z5
Founded in Toronto in 2008, Meta Gallery exhibits the artwork of a small group of emerging, mid-career and internationally established artists working in sculpture, painting and photography. Representing a small but ever-expanding ripple in the world of contemporary art, each artist works with their own unique visual language which, while dynamic in its expression, succeeds in inspiring a consistent range of emotions rooted in basic human experiences–love and loss, life and death and the struggles innate in all physical, emotional and spiritual growth are common themes throughout. The artists exhibiting attempt to unite these seemingly polarized elements into an aesthetic expression encapsulating a worldview unique in contemporary art today.
Central to the artists intention, is the creation of something beautiful.
Transcending the overly-cognized experiences which now define much of contemporary art, the work better lends itself to the more primal and visceral reaction one has in the presence of all great works of art. Awe. Sharing this cherished and time honored experience with people from all walks of life is central to the gallery's mandate.
---
Recent and Upcoming Productions
Current Staff
---