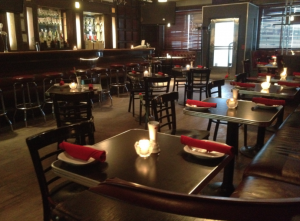 The Paddock Tavern
Seating Capacity
85
Address
178 Bathurst Street
Toronto, Ontario
Going through it's many transformations in history, The Paddock has settled down into a casual upscale bar. Located just south of Queen St, the bar maintains very much of a laid back Queen Street vibe, but with a King Street level of service, food and drink quality (without the high prices). The Paddock offers a casual atmosphere submersed in a classy art deco look that comes naturally from age. You'll feel right at home whether you show up in a suit, dress, or ripped jeans and a t-shirt.
The food is simply amazing. Fresh, made to order. Portion sizes and taste routinely surpass clientele's expectations and have them coming back for more. The menu stays small and relevant throughout the year as it changes seasonally along with your different wants and desires.
Along with the food menu, the cocktail menu also changes by the season, with liquor infusions, syrups and, starting 2014, bitters, made in house as well. Not that cocktails are the only way to go in this beautiful bar. With a speak easy look, you'll find it hard not to be compelled to order one of the 17 whiskies on hand straight up or on the rocks. With five bourbons on the menu not available in the LCBO, you'll find it that much harder not to try one of these tasty treats. And then there's the beer. Ah, beer. Nine delicious taps of nine different varieties. None of which you'll recognize as your regular run of the mill beers. Anchored by four Euros (Pilsner Urquell, Grolsch, Thurn und Taxis Dunkel, and Hopf Weisse), we also feature five guest taps (a stout, amber, ipa, cider & blonde), to give you an everchanging variety. No matter what your drinking pleasure, The Paddock has something special for you!
Last, but not least, The Paddock is known for its music. Not your regular Top 40 mix at all. The mix is generally old school, whether it be funk, blues, rock, hip-hop, or jazz. Thrown in with some newer ecclectic releases and re-mixes, you'll find yourself shazzaming in no time upon arrival. That is unless there's a live music act on the stage. Then you'll be happily tapping along to some of the best musicians in the city, as each music act is carefully vetted to ensure a high level of quality.
The Paddock remains one of the true gems of Queen Street West, and is looking forward to serving you for another 67 years!
PRIVATE EVENTS:
Along with our regular day-to-day operations, The Paddock is also used as an event space for private parties. The Paddock is a perfect forum for all sorts of parties of up to 85 people. Our classic look provides you with a fantastic opportunity to class-up your event regardless of genre, from fine-dining to cocktailing to a club-type setting to book readings and fundraisers. Our long L-shaped bar with classic swivel chairs is great to sit at for drinks while the large centre floor area can be converted to table service or a dance floor. We also have two 60" TVs and one 65" TV that can be used to your disposal, an excellent venue for one of our many TV show launch and wrap parties.
---
Recent and Upcoming Productions
---