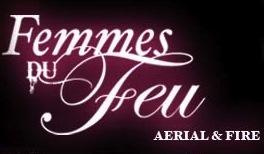 Femmes du Feu
Co-Artistic Director: Holly Treddenick
Co-Artistic Director: Sabrina Pringle
Femmes du Feu's mandate is to develop, explore and promote aerial dance in Ontario and to new audiences. Femmes du Feu creates work that blurs the edge between circus and contemporary dance. Founded by dance artists Holly Treddenick and Lindsay Goodtimes in 2003, Femmes du Feu was joined by co-artistic director Sabrina Pringle in 2006.
Aerial dance is an approach to space using props or apparatuses such as silks, low-flying trapezes, hoops, bungee, harnesses, window frames, chairs, or anything thing else suspended that can be danced with to create an exiting visual effect or convey an image. What puts it in the category of modern dance rather than traditional circus is the aesthetic, process, transitions and intentions. As a branch of contemporary circus pioneered by Cirque du Soliel, aerial dance has become a distinctly Canadian art form, that is still new to Ontario audiences. Now small companies such as Femmes du Feu are carving out an identity in the global arts scene.
Femmes du Feu have presented their aerial dance works at various corporate events, weddings, Bar Mitzvahs, holiday parties and for other companies such as Zero Gravity Circus and Circus Orange, as well as festivals such as The Wrecking Ball (2007), The International Circus Festival (2008), and Hysteria Festival (2009).
In 1999 Femmes du Feu created and produced their first full-length aerial dance show, Head First, for the London, Toronto and Hamilton Fringe Festivals, winning Patron's Pick and Best of Fringe in Toronto. In 2010 Femmes du Feu created and produced their second full-length production, The Plank for the London, Toronto, and Winnipeg Fringe Festivals to sold out houses. The Plank was extremly well received, with 5 star reviews, and again winning Patron's Pick in Toronto.
Femmes du Feu are currently in creation for their newest show, Airship. Performers include Natalie Fullerton, Lara Ebata, James Fisher, as well as Sabrina Pringle and Holly Treddenick.
(femmesdufeu.com)
Website
---
Produced by Femmes du Feu
Current Staff
---