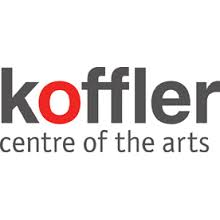 Koffler Centre for the Arts
Executive Director: Lori Starr
Koffler Centre of the Arts is a Jewish cultural institution with a broad mandate to serve all, and present a wide range of artistic programs through a global lens in a specifically Canadian context.
Established in 1977 by philanthropists Murray and Marvelle Koffler, the Koffler Gallery was created as a leading edge, contemporary arts organization. Following its success and expansion, the Gallery is now a central aspect to the Koffler Centre of the Arts, which is renowned for its record of groundbreaking exhibitions of Canadian contemporary art and interdisciplinary programs in film, literary, music, dance, theatre, and current political, social, and human rights issues as viewed through the lens of arts and culture. Click here for a downloadable Fact Sheet on the Koffler Centre of the Arts (PDF).
The Koffler's mission is to bring people together through arts and culture to create a more civil and global society. Our unique mix examines the arts across different disciplines and cultures in a way that strengthens identity while encouraging an appreciation of difference.
We like to engage with life. Culture is the way we do it. Culture is often looked at as an aside to our lives but to us, culture is the soul of who we are. It is the lens through which we examine what we value, what is right, what is beautiful.
We invite you to be moved, be challenged, befriend. To arrive early to chat and stay late to share.
(kofflearts.org)
Website
---
Produced by Koffler Centre for the Arts
| | |
| --- | --- |
| Complex | August 9th, 2014 – August 17th, 2014 |
| Honesty | October 18th, 2012 – November 4th, 2012 |
Current Staff
---