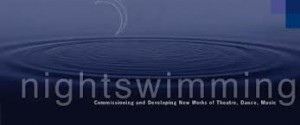 Nightswimming Theatre
Established
1995
Artistic Director: Brian Quirt
Nightswimming is an award-winning dramaturgical theatre company, established in 1995 by dramaturg Brian Quirt and founding producer Naomi Campbell, devoted to theatrical research, creation and performance. We explore new forms by commissioning Canada's leading artists in the fields of theatre, music and dance. We create powerful, moving and beautiful works of performance, and pursue the study of stories and how they are told in the theatre.
Nightswimming is devoted, through the creation of these new works, to advancing the field of dramaturgy and play development in Canada. Nightswimming commissions, develops and workshops these projects but generally does not produce them. We seek out established performing arts companies as partners in an extended developmental process leading to premiere productions by our partner companies.
We are committed to conducting ground-breaking research in our field, and to supporting artists from across Canada through our Pure Research program.
Our critically acclaimed plays-in-performance explore challenging theatrical forms and emotionally rich stories with bold visual style. We commit to long-term relationships with our writers and provide them with the tools they need: substantial commissions; readings and workshops; high calibre actors; research; colleagues from the areas of design, choreography and music; on-going dramaturgical support; and a developmental process that is ideally suited to their requirements. We believe our commitment to research, creation and performance inspires these artists to create some of their best work.
Please join us – as audience, patrons and colleagues – as we search for unique ways to tell powerful stories.
(nightswimmingtheatre.com)
Website
http://nightswimmingtheatre.com
---
Produced by Nightswimming Theatre
| | |
| --- | --- |
| Broken Tailbone | October 2nd, 2019 – October 13th, 2019 |
| The Fish Eyes Trilogy | September 28th, 2017 – October 15th, 2017 |
| Same Same But Different | February 15th, 2014 – March 8th, 2014 |
| Such Creatures | January 20th, 2010 – February 7th, 2010 |
| Rough House | April 8th, 2008 – April 20th, 2008 |
Developed by Nightswimming Theatre
Current Staff
Board of Directors
---