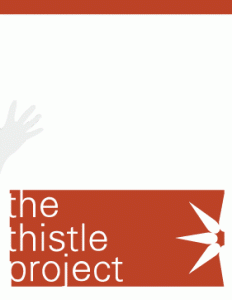 The Thistle Project
Co-Artistic Director: Matthew Romantini
Co-Artistic Director: Christine Horne
Welcome to The Thistle Project.
We are a performance collective that uses space and the body to adapt non-theatrical sources for the stage, impelling our audiences to new heights of emotional, mental and physical response. We create because we are driven to remain accountable to the greater community. This need is the crucible of our mandate.
Why non-theatrical sources? They present us with limitless possibilities in our pursuit of relevant and provocative themes and subject matter. We draw from among world literatures, mythologies, visual art, music, physics textbooks, and installations to allow audiences to feed their creative appetites with our visceral and honest performance style.
(thistleproject.ca)
Website
---
Produced by The Thistle Project
Current Staff
---