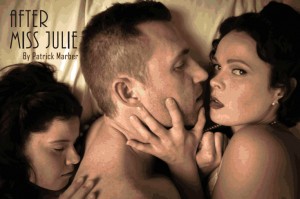 After Miss Julie (2013)
Produced by
The Red One Theatre Collective
Playwrights: August Strindberg and Patrick Marber
Director: David Ferry
a Version of Strindberg's Miss Julie by Patrick Marber.
Venue
Run
November 15th, 2013 – November 30th, 2013
Awards & Nominations
2014 Dora Award Winner ~ Independent – Outstanding Performance by a Female (Claire Armstrong)
2014 Dora Award Nominee ~ Independent – Outstanding Direction
Synopsis
England, July 1945. The Labour Party sweeps to a landslide election victory. Celebrations flood into the streets. Miss Julie descends into the servants' kitchen of her father's country estate seeking John, the chauffeur. Over one tragic summer's night, Julie and John take their passionate entanglement to the edge.
In this provocative adaptation, Marber amps up the power play between Julie, John, and his fiancée Christine to a deliciously dangerous level.
(redonetheatre.com)
---
Cast
Creative Team
Production
---