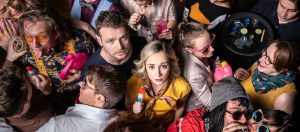 Casimir and Caroline (2020)
Produced by
Playwright: Ödön von Horváth
Adapters: Paolo Santalucia and Holger Syme
Director: Paolo Santalucia
Venue
Streetcar Crowsnest – The Scotiabank Community Studio

Run
January 14th, 2020 – February 9th, 2020
Synopsis
Tonight's the office party. There's a one drink-ticket limit, and we are way past that now.
Casimir just got fired, his phone's not working and his shoes are falling apart. Caroline wants to dance, sing karaoke, and forget about the weight of the world for just one night. They are engaged… for now.
Casimir and Caroline is a play about love in the cold atmosphere of modern capitalism. We follow these ultra star-crossed lovers, as they navigate clingy co-workers, sketchy best friends, questionable HR representatives, the playboy boss, that powerhouse from the Montreal office and those beautiful few who might actually possess an ounce of wisdom.
They all desperately long for something more. None of them can say what that might be. But at least their lives look dope on Instagram. (crowstheatre.com)
---
Cast
Creative Team
Production
---