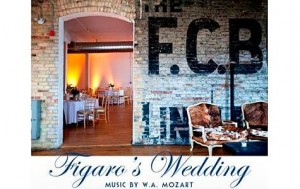 Figaro's Wedding (2013)
Produced by
Composer: Wolfgang Amadeus Mozart
Librettist: Lorenzo da Ponte
Translator: Joel Ivany
Music Arrangements: Christopher Mokrzewski
Director: Joel Ivany
Music Director: Christopher Mokrzewski
Venue
Run
May 29th, 2013 – June 2nd, 2013
Awards & Nominations
2014 Dora Award Winner ~ Opera – Outstanding New Musical/Opera
2014 Dora Award Nominee ~ Opera – Outstanding Direction, Outstanding Scenic Design, Outstanding Lighting Design, Outstanding Musical Direction
Synopsis
The fully-staged operatic production of the AtG season is a brand new adaptation of Mozart's Le Nozze di Figaro, entitled Figaro's Wedding. It will involve a contemporary re-imagining of the setting, a new English translation by AtG Founder Joel Ivany, and an impressive cast.
You won't find more incredible music and a zanier story.  A chic, modern Toronto wedding, love, betrayal, bills and flowers.  Figaro's Wedding will have it all.  It is the MUST wedding of the season.
Marking an AtG first, the production will be accompanied by a chamber orchestra provided by the Music in the Barns Chamber Ensemble.
---
Cast
Creative Team
Music
Production
---