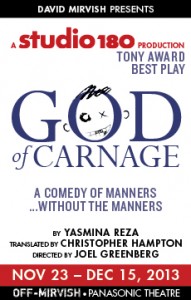 God of Carnage (2013)
Produced by
Presented by
Playwright: Yasmina Reza
Translator: Christopher Hampton
Director: Joel Greenberg
Venue
Run
November 23rd, 2013 – December 15th, 2013
Awards & Nominations
2014 Broadway World Award Winner – Best Independent Theatre Production
Synopsis
Benjamin and Henry have had a fight.
Their parents are meeting for a civil discussion of the incident.
At least that's the plan.
Tensions flare, and the gloves come off in this hilarious, Tony award–winning comedy that strikes at the heart of bourgeois civility and reveals the savagery beneath polite society's polished facade.
Studio 180 is proud to present this internationally acclaimed comedy at the Panasonic Theatre, as part of Mirvish Productions' 50th Anniversary season (OFF-MIRVISH: The Second Stage Series).
---
Cast
Creative Team
Production
---