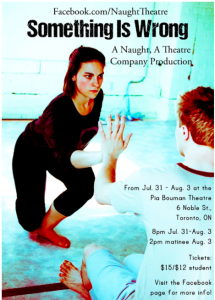 Something is Wrong (2013)
Produced by
Venue
Pia Bouman: Scotiabank Studio Theatre

Run
July 31st, 2013 – August 3rd, 2013
Synopsis
We begin with difficult questions that stare us in the face and refuse to move. These are the questions that lie underneath, that hide in the shadows, that flit around our heads in the night.
The play draws influence from the most ancient form of theatre: Greek Tragedy. We begin with a Chorus of men and women who are posessed and infected by these questions. They fight to keep their eyes open, to stare the questions in the face, but it proves to be too much for them.
The Chorus decides that they must have been mistaken: that nothing is wrong. That they should go home and stop worrying. All of them except one, that is: Thespis, who refuses to admit that nothing is wrong. It is Thespis' determination to continue searching for answers that propels the play.
On the journey, we meet Daemon, the Chorus' protector against the pesky Thespis, and Iris, a magnetic spirit who is intrigued and mystified by the whole situation. We travel into the consuming void, to a cottage, through the desert, and to a Chinese tea-house in the search for what, if anything, is wrong, and what, if anything, we can do.
The piece integrates poetic text, dance, original music and song to create and guide us through its mysterious setting. And yes, there will be blood. (naughttheatre.wordpress.com)
---
Cast
Creative Team
Production
---