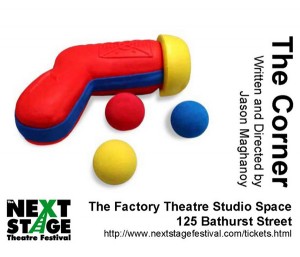 The Corner (2008)
Produced by
Presented by
Playwright: Jason Maghanoy
Director: Jason Maghanoy
Venue
Run
January 2nd, 2008 – January 13th, 2008
Synopsis
LINA stands alone on stage.
LINA
I noticed his eyes.
I don't know how I did. I guess I was looking for eyes like his.
He walked up to me, and I remember wondering what his mouth tasted like.
I didn't kiss him, but I remember a taste. I remember leaving the club with that taste in my mouth.
I imagined it all.  (nextstagefestival.com)
---
Cast
Creative Team
Production
---