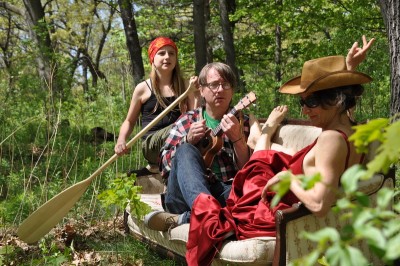 The Hum (2015)
Produced by
GzAp Collective and Theatre Gargantua
Presented by
The SummerWorks Performance Festival
Director: Jacquie PA Thomas
Co-Creators: Julia Aplin and John Gzowski and Jenny Aplin
Original text, choreography, music & animation by the GzAp Collective
Venue
Theatre Passe Muraille Mainspace

Run
August 8th, 2015 – August 16th, 2015
Synopsis
"Listen. Can you hear it?"
Julia, John and Jenny invite you on a voyage from their living room couch to the galaxy stars.
Inspired by 10-year old Jenny's paintings, this is a story of connections to family, the environment and life told through text, music, dance and drawing. It is an exploration of tuning into the connection itself; or in the words of a child, to the hum of the Earth.
Like her parents, dancer Julia Aplin and musician John Gzowski, Jenny explores big ideas through art. Her drawings focus on how we, and everything in nature, are made from the same elements, all from recycled stardust.
Jenny is part of a generation growing up at the world's tipping point, for whom climate change is the defining issue, and who will find her way in the world she inherits.
The Hum is a playful exchange between science, art and family. (summerworks.ca)
---
Cast
Creative Team
Production
Staff
---