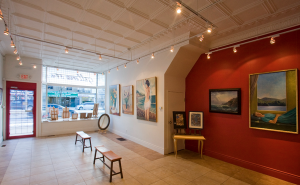 Galleria 814
Address
814 St Clair Ave W
Toronto, ON
M6C 1B6
Galleria 814 specializes in archival, custom framing for individuals, organizations, galleries, and artists. As artists ourselves, we assist our clients in selecting frames that become integral to the artistic expression of a work of art.
Galleria 814 exhibits the work of emerging and established artists through solo and group shows . We exhibit both contemporary and traditional art in a variety of mediums, including photography, painting, and sculpture. The gallery is pleased to connect artists–who represent a range of artistic styles–with clients interested in commissioned portraiture. As well, our gallery offers the use of its space to non-profit organizations seeking to raise funds through the sale of art.
The gallery is quickly becoming an integral part of the burgeoning St. Clair West artistic community. During the time when St. Clair was being rejuvenated with the new streetcar line, Galleria 814 was undergoing its own evolution. The interior of Galleria 814 was modernized and updated while preserving many architectural heritage features, such as its leaded windows and tin ceiling. Galleria 814 has a supportive relationship with the Wychwood Barn Artist Community, The Academy of Realist Art, and Adina Photo.
---
Recent and Upcoming Productions
---