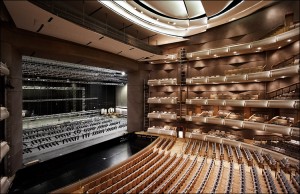 R. Fraser Elliott Hall
Seating Capacity
2163
Address
145 Queen Street West
Toronto, Ontario
The Four Seasons Centre's auditorium is designed to engage every audience member with the performance on stage. In dramatic contrast with the transparency of the Isadore and Rosalie Sharp City Room, R. Fraser Elliott Hall is completely isolated from all external sound and light to provide the audience with the best possible theatrical experience.
The multi-tiered balconies and horseshoe shape of the auditorium are based on the design of the best European opera houses—to showcase the glory of the human voice, the richness of a full orchestra, and to provide the overwhelming sense of a collective experience.
No matter where you choose to sit, all sightlines have been optimized for both opera andballet. Learn more about seeing a performance in the R. Fraser Elliott Hall, or take a building tour.
http://www.coc.ca/aboutthecoc/FourSeasonsCentre/FacilityGuide.aspx
---
Recent and Upcoming Productions
---