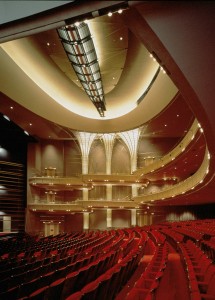 Toronto Centre for the Arts – Main Stage Theatre
Seating Capacity
1727
Website
http://www.tocentre.com/mainstage
Address
5040 Yonge Street
Toronto, Ontario
M2N 6R8
A dynamic room is necessary to meet the demands of the performing arts. A handsome room is necessary to meet the demands of a discerning audience. A theatre must complement the art.
The Main Stage at the Toronto Centre for the Arts is a superior theatre. A majestic room, the Main Stage has perfect theatrical ambiance. Finished in opulent tone of pewter, gold and cream and filled with rich red seats accented in ebony, the Main Stage continually meets and exceeds the sophisticated visual and technical demands of theatre as well as international touring ballets, orchestras and operas.
On October 17, 1993, a revival production of the Jerome Kern and Oscar Hammerstein || landmark American musical, Show Boat, officially opened the Centre's Main Stage. This critically acclaimed, and exceptionally technically demanding spectacle, directed by Harold Prince, entertained hundreds of thousands of people. In addition to Show Boat, the Main Stage was the creative home to Ragtime and Fosse: A Celebration in Song and Dance. All three Tony® Award winning productions were created in this room.
The Main Stage's technological achievements are many. Segmented, nearly imperceptible convex walls direct sound energy throughout the hall. Absorptive sound panels and acoustic velour drapes can be drawn to alter sounds to the exact specifications of the most demanding technicians. Amplified sound for special performances is delivered via banks of speakers hidden within the hall's proscenium arch. The presence of background noise is minimal. The circulation of air is supplied through an underseat duct system that quietly replenishes the fresh air supply to each member of the audience.
The Main Stage delivers an unbelievable package. Excellent sound engineering in a stunningly beautiful and comfortable room.
The Main Stage was designed to provide superior acoustics in a variety of configurations. The overhang has been reduced to increase the comfort of the audience on the main floor while serving to enhance the rich acoustics and sight lines of the 1,727 seats, all of which are within 85 feet of the stage. The dress-circle and balcony loges along the sides make for a European styled intimacy.
(tocentre.com)
---
Recent and Upcoming Productions
| | |
| --- | --- |
| West Side Story | May 8th, 2012 – June 3rd, 2012 |
| In The Heights | February 7th, 2012 – February 19th, 2012 |
| South Pacific | February 15th, 2011 – April 11th, 2011 |
| Jersey Boys | December 12th, 2008 – August 22nd, 2010 |
| Jersey Boys | August 21st, 2008 – December 6th, 2008 |
| My Fair Lady | May 8th, 2008 – May 31st, 2008 |
---