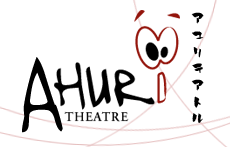 Ahuri Theatre
Ahuri Theatre strives to create theatre which is lively : a theatre always in movement, a theatre that challenges and entertains audiences, but above all, a theatre that can escape our battered senses and remain an art in constant transformation.
Through a form of theatre which is both physical and visual, we search for a unique language permitting the integration of many theatrical forms from a diverse number of cultures. Through its productions, Ahuri Theatre explores what makes us who we are, to be human, individuals both alike and also very different. On one side, we ask ourselves what touches us, what makes us laugh and cry despite geographical location. On the other side, we seek to discover what it is that is profoundly different between the inhabitants of our planet, for is it not these differences that make us alive? To pass these boundaries, we create work which, though not eliminating text, rests greatly on movement, gesture and image.
We firmly believe the singular path to finding a common language, both theatrically and worldwide, is to learn to recognize and negotiate differences, at the same time taking into consideration the relativity of our rapport with the world we live in. We strive to break preconceived notions above all those deemed to be universal.
Our process of creation and exploration begins with an apprenticeship and experiential knowledge of a culture, evading a sort of destructive tourism-the exotic romanaticizing which results from exchanges within a privileged world. We feed our artistic research with the life of the culture and the encounters we discover through workshops and interactions with its people. We believe that this concrete form of exchange can envoke new and passionate voices.
(ahuritheatre.com)
Website
---
Produced by Ahuri Theatre
| | |
| --- | --- |
| This is the Point | December 1st, 2017 – December 3rd, 2017 |
| Flashing Lights | October 7th, 2017 – October 22nd, 2017 |
| This Is The Point | November 4th, 2016 – November 20th, 2016 |
| Ralph + Lina | April 17th, 2014 – May 18th, 2014 |
| A Fool's Life | September 30th, 2011 – October 8th, 2011 |
Current Staff
---