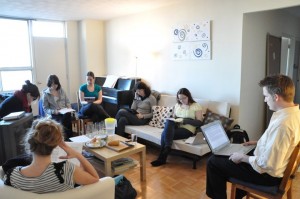 Socratic Theatre Collective
Artistic Director: Liz Bragg
Socratic Theatre is a theatre artists' collective dedicated to producing high-quality theatre that creates a dialogue:
within the company,
among the audience, and
across the traditional divide.
The collective strives to achieve this goal by developing challenging and thought-provoking productions of new and classic works through an extended collaborative process.
Socratic Theatre is also dedicated to forging bonds between emerging artists and industry veterans, as well as fostering the creative talents of non-professional artists, in an environment of collaboration and creativity.
(socratictheatre.com)
Website
http://www.socratictheatre.com
---
Produced by Socratic Theatre Collective
Current Staff
---