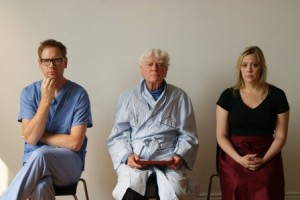 Your Good Friends
Established
2012
Formed [in 2012] to present "Like A Dog", which starred Canadian theatre icon Peter C. Wylde, Your Good Friends make theatre for you. From us, to you. Inviting audiences to share a conversation, and then hopefully a pint once the lights come up to keep that conversation going.
Run by Matthew Gorman and Gillian Lewis, who sideline as the Artistic Director and Production Manager of Cart/Horse Theatre, Your Good Friends was formed as a friendly place where new plays could be presented without the pressures of major production. No idea is off limits or too far gone to be explored. We try to take large, overwhelming themes like death, loss, and love and approach them wit with and passion. These are plays that give over to imagination and look to stretch the canvas of theatre.
Most importantly, we want to make everyone welcome; to take away some of the preciousness of theatre so we can romp and rollick a bit. To get muddy in the backyard with your good friends, because they're the only people who will tell you the truth and let you tell it right back.
(yourgoodfriends.wordpress.com)
Website
http://yourgoodfriends.wordpress.com
---
Produced by Your Good Friends
Current Staff
---