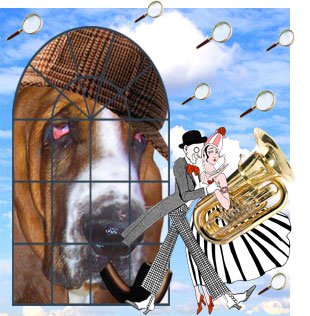 After Magritte & The Real Inspector Hound (2011)
Produced by
Playwright: Tom Stoppard
Directors: Ellen Green and Barbara Larose
Venue
Run
January 21st, 2011 – February 5th, 2011
Synopsis
Two delightful Stoppard comedies, performed together for an evening of entertainment.
The Real Inspector Hound follows two theatre critics named Moon and Birdboot who are watching a ludicrous setup of a country house murder mystery, in the style of a whodunit. By chance, they become involved in the action causing a series of events that parallel the play they are watching.
After Magritte is a hilarious farce in which different versions of the same, extremely simple story are superimposed one upon the other creating a dizzying confusion surrounding a supposed crime that the enterprising Inspector Foot of the Yard and the plodding Constable Holmes simply cannot unravel. The end of the play is a totally surreal and totally logical tableau, entirely worthy of the painter who inspired it all.
This pairing of Stoppard one-acts is the 2010-11 season's "Countdown to 100″ play; they were previously produced at Alumnae during the 1976-77 season.(alumnaetheatre.wordpress.com)
---
Cast
Creative Team
Production
Staff
---