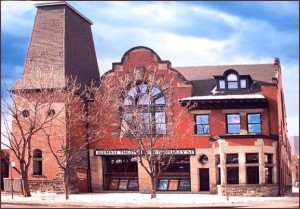 Alumnae Theatre Company
Established
1919
Long before there was a Toronto theatre scene, there was the University Alumnae Dramatic Club. Founded in 1919 by women graduates of the University of Toronto, at a time when Torontonians had little opportunity to see theatre of any kind, the club staged premieres of such plays as Beckett's Waiting for Godot, T.S. Eliot's The Family Reunion, Ionesco's The Lesson, Pinter's The Caretaker and Vaclav Havel's Largo Desolato.
Some of the club's more recent "firsts" include The Art of Dining by Tina Howe, The Love of the Nightingale by Timberlake Wertenbaker, and Thirteen Hands by Carol Shields.
No longer affiliated with the University, Alumnae's membership has broadened to include the whole spectrum of Toronto's communities. But it continues its original mandate to present the best in classic and contemporary plays and provide opportunities for all women in theatre. Over the years, many Canadian theatre artists have honed their skills on our stages, including Martin Hunter, R. H. Thomson, Molly Thom, Drew Carnwath, Shirley Barrie, Kelly Thornton, Mallory Gilbert, Sue Miner and Richard Easton.
Today, Alumnae's home is the old Firehall No. 4 on Berkeley Street. Built in 1900, this handsome building was renovated and restored by the Alumnae in 1972, and contains a fully equipped main stage and an intimate studio theatre, as well as a workshop, a well-stocked wardrobe, backstage and lobby space, and a benign ghost.
(alumnaetheatre.com)
Website
Venues
---
Produced by Alumnae Theatre Company
| | |
| --- | --- |
| The Clean House | April 7th, 2017 – April 22nd, 2017 |
| Stepping Out | January 22nd, 2016 – February 6th, 2016 |
| I Am Marguerite | April 10th, 2015 – April 25th, 2015 |
| The Killdeer | April 12th, 2013 – April 27th, 2013 |
| A Woman of No Importance | January 25th, 2013 – February 9th, 2013 |
| The Trojan Women | January 20th, 2012 – February 4th, 2012 |
| After Mrs. Rochester | September 23rd, 2011 – October 8th, 2011 |
| After Magritte & The Real Inspector Hound | January 21st, 2011 – February 5th, 2011 |
| You Are Here | September 24th, 2010 – October 9th, 2010 |
| Palace of the End | November 12th, 2009 – November 28th, 2009 |
| Closer | April 17th, 2009 – May 2nd, 2009 |
| Pride & Prejudice | January 16th, 2009 – January 31st, 2009 |
| Talking Heads | November 14th, 2008 – July 29th, 2008 |
| Wit | September 26th, 2008 – October 11th, 2008 |
| Daughter of the House | April 18th, 2008 – May 3rd, 2008 |
| Private Lives | January 18th, 2008 – February 2nd, 2008 |
| The Memory of Water | September 28th, 2007 – October 13th, 2007 |
| Lady Windermere's Fan | January 19th, 2007 – February 3rd, 2007 |
Presented by Alumnae Theatre Company
---