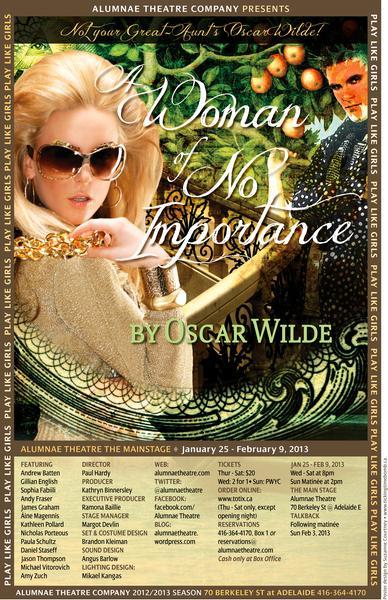 A Woman of No Importance (2013)
Produced by
Playwright: Oscar Wilde
Director: Paul Hardy
Venue
Run
January 25th, 2013 – February 9th, 2013
Synopsis
Oscar Wilde's A Woman of No Importance was first performed in 1893, but Paul Hardy, who directs this production for Alumnae Theatre Company, decided to move the period forward in time to the mid 1980s. That being the era of Margaret Thatcher, Ronald Reagan, "power dressing", and businesswomen, it highlights the fact that for all our progress, the 1% still control the 99%, and women are still subject to more social scrutiny and censure than men.
Hardy notes that "By 1985, Thatcherism economics had boiled tensions to full in Britain. Massive riots based on race and class had just raged in the East End of London. Thatcher's power was at its zenith. The decadent rich were enjoying one of their best times in recent British history. Today, just as in Wilde's day, the richest people argue about what is 'too much' to give to the poor, and young mothers are accosted in public for not waiting or having more restraint."
The plot of Woman is classic Wilde: at a weekend country house party hosted by Lady Hunstanton (played by Andy Fraser), wealthy ladies' man Lord Illingworth (Andrew Batten) is the subject of much gossip among his friends in the upper-crust. He is about to hire an ambitious young man, Gerald Arbuthnot (Nicholas Porteous) as his secretary/travelling companion. Gerald is eager to accept, but his mother, the quiet-living Mrs. Arbuthnot (the unimportant "woman" of the title, played by Áine Magennis) is horrified that Gerald will be exposed to Illingworth's unsavoury influence. Or does she have a more serious reason for her objection?
The play is crammed full of Oscar Wilde's witty zingers and flirtatious banter. It also deals with some heated issues, both for Wilde's time and ours. (Show Facebook Event)
---
Cast
Creative Team
Production
Staff
---