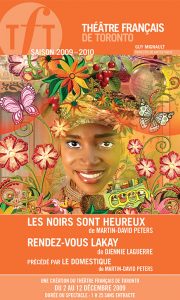 Les Noirs Sont Heureux / Rendez-Vous Lakay / Le Domestique (2009)
Produced by
Playwright: Martin-David Peters and Djennie Laguerre
Directors: Sara Rénélik and Guy Mignault
Venue
The Berkeley Street Theatre – Upstairs Theatre

Run
December 2nd, 2009 – December 12th, 2009
Synopsis
LE DOMESTIQUE (THE SERVANT)
Le Domestique is a short one-act monologue in which a black servant exchanges views with the home owner, a rich, white, narrow-minded widow.
RENDEZ-VOUS LAKAY (RENDEZ-VOUS WITH HOME)
When news of their father's death comes to Canada, their mother sends sisters Joséphine and Suzette on a trip to Haiti to bury a man they hardly knew. Joséphine, whose memories of her father are clearer, is riddled with angst. Suzette has very little recollection of her father and looks forward to the trip as a free vacation. What they find in Haiti surprises, confuses, and delights them both. Talented solo performer/creator Djennie Laguerre leads the audience on a journey to experience the universal human beauty of the Haitian people beyond the voodoo, the colourful clothes, and the extreme poverty, by using a dazzling combination of interactive Haitian storytelling style and traditional dance.
LES NOIRS SONT HEUREUX (BLACK PEOPLE ARE HAPPY)
Les Noirs sont heureux is a boisterous settling of scores between a black married couple and a Russian expert on African studies. Inspired by a piece by Courteline, Martin-David Peters updates a classical comedy of the French theatre, putting it in a Torontonian context.
---
Cast
Creative Team
Music
Production
---