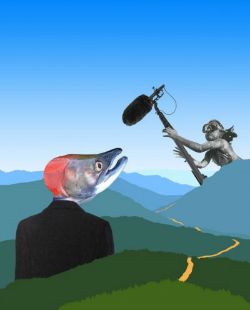 Like There's No Tomorrow (2015)
Produced by
Presented by
The SummerWorks Performance Festival
Creators: Georgina Beaty and Antoine Bédard and André Du Toit and Clea Minaker and Jesse Orr and PJ Prudat and Anita Rochon and Jonathan Seinen
Director: Anita Rochon
Venue
Theatre Passe Muraille Mainspace

Run
August 7th, 2015 – August 15th, 2015
Synopsis
"We are of the view that, overall, the Enbridge Northern Gateway [Pipeline] Project … is in the Canadian public interest. We find that Canadians will be better off with this project than without it." – Report of the National Energy Board's Joint Review Panel for the Enbridge Northern Gateway Project.
In 2012 and 2013, Architect Theatre travelled to Northern British Columbia, speaking with people along the route of the proposed Northern Gateway Pipeline. Inspired by this research, Like There's No Tomorrow imagines an unconventional environmental review panel.
A bureaucratic space is transformed through the voice of an elder. As she speaks, bridging the quotidian and the profound, connecting the spiritual to deep worries about the present moment, she invokes the possibility of a different way forward.
Architect Theatre's newest project began as a play about a pipeline and, now, confronts much more. A meditative and emotional work, Like There's No Tomorrow moves from the personal to the monumental, where the official meets the sublime, bringing focus to the human in the landscape of progress. (summerworks.ca)
---
Cast
Creative Team
Production
Staff
---