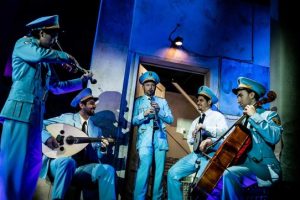 The Band's Visit (2019)
Produced by
Atlantic Theatre Company and Deroy-Carr-Klausner and Evamere Entertainment and Federman-Moellenberg and FVSL Theatricals and Hendel-Karmazin and Horipro Inc. and Independent Presenters Network and Jam Theatricals and Lassen Blume and StylesFour Productions and The John Gore Organization and The Shubert Organization and Tom Viertel, Steve Baruch, Marc Routh & Richard Frankel
Presented by
Venue
Run
September 17th, 2019 – October 20th, 2019
Synopsis
The eight men of the Alexandria Ceremonial Police Orchestra arrive in Israel from Egypt. They have been booked by an Arab cultural center in Petah Tikva, but through a miscommunication (because Arabic has no "p" sound, it is usually replaced with "b"), the band takes a bus to Beit Hatikva, a town in the middle of the Negev Desert.
When the Egyptians arrive at this sleepy Israeli town they soon realize their mistake. Unfortunately there is no transportation out of the town until the next day, and because the town is so small there are no hotels for them to spend the night in.
The band members dine at a small restaurant where the owner, Dina, makes arrangements for them to stay the night at her apartment, at her friends' apartment, and in her restaurant.
While the various hosts provide each band member with shelter, food, music and companionship, there is opportunity for them to share details about each other's lives and cultures.
Eventually they each discover their common humanity, despite being from two separate cultures and nations. Delicate new friendships are forged and a mutual understanding and acceptance blossoms. For two of the band members their friendships with the locals verge on the romantic.
The Band's Visit beautifully and poignantly explores the unspoken longing and connection we strive to share with each other, even as we reach across the cultural and national divides that may separates us. (mirvish.com)
---
Cast
Creative Team
Music
Production
Staff
---