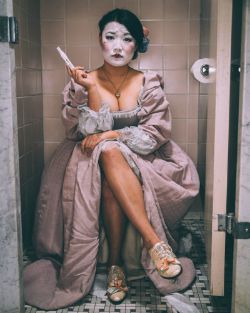 the marquise of O- (2015)
Produced by
Presented by
The SummerWorks Performance Festival
Adapter: Lauren Gillis and Ted Witzel
Directors: Lauren Gillis and Ted Witzel
After the short story by Heinrich Von Kleist
Venue
Run
August 6th, 2015 – August 16th, 2015
Synopsis
the marquise of O— is pregnant, but doesn't know how it happened. was it the immaculate conception or an ordinary sex crime? she puts an ad in the newspaper to find out.
in this new performance, based on the dubiously comedic and at any rate rather awkward short story by heinrich von kleist, tell-all TV segment inexplicably meets period drama as the red light district explores the tenuous relationship between truth and appearance, in a tabloid world of bleeped-out events and identities, lots of blushing and falling down, kantian metaphysics, a very important horsey-mask, some barfing, and 'really great guys' who just happen to be —.
(oh yeah, there's a "great romance" too, if you're the sort of person who's into that).
the red light district is a toronto-based theatre-making thing that deconstructs texts by dead people in a way that is not humourless or stodgy. they made this thing by eating a lot of late night freezer pizza while talking about jian ghomeshi. (summerworks.ca)
---
Cast
Creative Team
Production
Staff
---