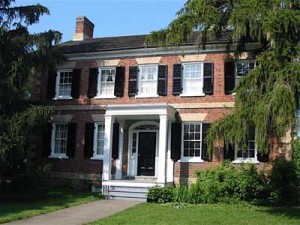 Gibson House Museum
Address
5172 Yonge Street
Toronto, Ontario
M2N 5P6
Built in 1851, Gibson House was the home of Scottish immigrant David Gibson and his family. He was a land surveyor who helped map early Toronto. Wanted by the government for participating in the Upper Canada Rebellion of 1837, Gibson was forced to flee to the United States where he and his family remained for 11 years. On their return to York County, the Gibsons built this beautiful home and once again became active members of their rural community.
Visitors can step back in time and explore this elegant farmhouse. Its serene Georgian-style exterior belies the dramatic lives of the Gibson family.
Gibson House Museum is one of 10 historic museums operated by the City of Toronto. Toronto's Historic Sites engage visitors, inspire passion, challenge ideas and connect the past to the present.
http://www1.toronto.ca/wps/portal/contentonly?vgnextoid=a2dc2271635af310VgnVCM10000071d60f89RCRD
---
Recent and Upcoming Productions
| | |
| --- | --- |
| Turkey Shoot! | October 6th, 2016 – October 22nd, 2016 |
| Rope | November 21st, 2014 – November 29th, 2014 |
| The Pink Bedroom | May 1st, 2012 – May 7th, 2012 |
| I Never Get Dressed Before Dark on Sundays | May 1st, 2012 – May 7th, 2012 |
| Suddenly Last Summer | May 1st, 2012 – May 6th, 2012 |
Current Staff
---