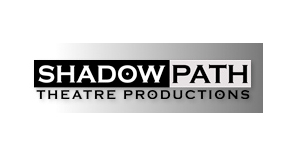 Shadowpath Theatre Productions
Artistic Producer: Alex Karolyi
Shadowpath Theatre Productions is a professional theatre company and a registered not for profit organization since 2003, obtaining charitable status in 2012.
Our vision encompasses creativity, education and community. We aim to inspire renewed artistic awareness within the community through theatre productions, workshops and events.
Our mission is to provide a professional outlet for emerging artists/writers while also providing opportunities to the experienced theatre practitioner. This approach infuses new energy into Shadowpath productions utilizing the professional guidance of theatre experts. We are focused on discovering interesting playwrights and sharing their voice with an audience.
Shadowpath produces plays through: developing scripts in a workshop setting, participating in theatre festivals, introducing new scripts to audiences as staged readings and full professional productions. Creative work developed at Shadowpath and presented through professional productions, public workshops and events, builds a positive artistic environment that encourages the public to take a proactive role in the cultural development of their community. The company will strive to continue encouraging artistic community awareness and to create heightened appreciation for the performing arts in York Region. (shadowpaththeatre.ca)
Website
http://www.shadowpaththeatre.ca
---
Produced by Shadowpath Theatre Productions
| | |
| --- | --- |
| Table 7 – A Plays in Cafes Creation | July 4th, 2019 – July 13th, 2019 |
| Plays in Cafes | July 5th, 2018 – July 14th, 2018 |
| Plays in Cafes | July 6th, 2017 – July 16th, 2017 |
| Plays in Cafes | June 30th, 2016 – July 10th, 2016 |
| Plays In Cafés | July 2nd, 2015 – July 12th, 2015 |
| Paradise by the River | November 25th, 2010 – December 7th, 2010 |
Current Staff
---