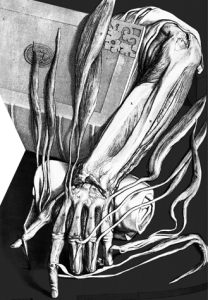 Birth of Frankenstein (2013)
Produced by
Author: Mary Shelley
Playwrights: Matthew Thomas Walker and Claire Wynveen and Adriano Sobretodo Jr.
Director: Matthew Thomas Walker
The script was inspired by and includes excerpts from novels, poems, journals, and letters by Mary Shelley, Percy Shelley, William Godwin, Mary Wollstonecraft, and Lord Byron.
Venue
Saint Luke's United Church – The Parlour Room

Previews
October 22, 2013, 2013
Run
October 22nd, 2013 – November 3rd, 2013
Awards & Nominations
2014 Dora Award Winner ~ Independent – Outstanding Direction
2014 Dora Award Nominee ~ Independent – Outstanding Production, Outstanding New Play, Outstanding Lighting Design
Synopsis
Birth of Frankenstein fuses Mary Shelley's groundbreaking gothic novel with the dramatic personal circumstances that inspired her to write it.
Within the walls of a 19th century church in downtown Toronto, Mary Shelley has been woken. And here she is – to tell the story about how she came to write, and be consumed by, one of the most famous novels of all time. Featuring Romantic poet Percy Shelley, rebellious iconoclast Lord Byron, early feminist Mary Wollstonecraft and more, Birth of Frankenstein takes you through the looking glass and into the Waking Dreams of an 18-year old girl with big ideas and more than her share of love, loss and scandal. This fall, slip into an immersive world with the acclaimed indie company that brought you Matchbox Macbeth – a world where graves are robbed, men are made immortal, and all laws of nature are broken.
(litmustheatre.com)
---
Cast
Creative Team
Production
---