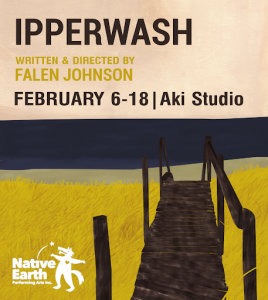 Ipperwash (2018)
Produced by
Playwright: Falen Johnson
Director: Falen Johnson
Venue
Run
February 6th, 2018 – February 18th, 2018
Synopsis
In 1942, when the Department of Defence forcibly evicted the community of Stony Point to the neighbouring reserve of Kettle Point to establish military training base, Camp Ipperwash, the department promised to return the land after the war had concluded. This promise went unfulfilled for over 70 years.
Bea King, an Anishinaabe veteran of the war in Afghanistan, returns to Canada in search of a new life. When she volunteers for duty with the Department of National Defence at the Kettle and Stony Point Reserve, she believes she's found a peace mission she can 'give back' through.
Upon arriving at Stony Point, Bea begins to learn about the devastating history of Camp Ipperwash, the former Canadian military base built on appropriated land; land that is still dangerously contaminated to this day.
Through the forging of new friendships in the community, Bea comes to learn about the forcible evictions that underpinned the forming of the camp, and the impacts of displacement still reverberating through the community.
With the helpful guidance of a mysterious child, and an aging local veteran, Bea discovers how hard it can be to ever truly return home. (nativeearth.ca)
---
Cast
Creative Team
Production
Staff
---