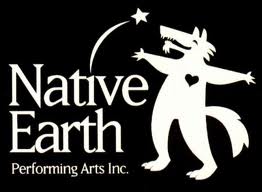 Native Earth Performing Arts
Artistic Director: Joelle Peters
Managing Director: Himanshu Sitlani
Current staff listing: https://www.nativeearth.ca/staff/
WHO WE ARE

Native Earth Performing Arts is a not-for-profit organization dedicated to the creating, developing and producing of professional artistic expression of the Aboriginal experience in Canada.
Through stage productions (theatre, dance and multi-disciplinary), new script development, apprenticeships and internships, Native Earth seeks to fulfill a community of artistic visions. It is a vision that is inclusive and reflective of the artistic directions of members of the Aboriginal community who actively participate in the arts.
ARTISTIC MANDATE

Native Earth Performing Arts Inc. (NEPA Inc.) is dedicated to the expression of the Native experience through theatre arts. Its mandate is:
to provide a base for professional Native performers, writers, technicians and other artists
to encourage the use of theatre as a form of communication within the Native community, including the use of Native languages
to communicate to our audiences the experiences that are unique to Native people in contemporary society
to contribute to the further development of theatre in Canada.
Native Earth engages under the Independent Theatre Agreement professional artists who are members of Canadian Actors Equity Association.
7 VALUES
In service of our mandate and mission, the company strives to operate according to 7 traditional principles which inform decisions in all undertakings. It is our belief that these tenets not only honour Aboriginal values, but are universal to all cultures in various manifestations. We acknowledge that these are subjective values, and that each individual has an interpretation of them.
Courage
Generosity
Tolerance
Strength of Character
Patience
Humility
Wisdom
(nativeearth.ca)
Website
Venues
---
Produced by Native Earth Performing Arts
| | |
| --- | --- |
| Niizh | April 12th, 2023 – April 30th, 2023 |
| Firewater Thunderbird Rising | February 16th, 2023 – February 19th, 2023 |
| Where the Blood Mixes | May 26th, 2022 – June 26th, 2022 |
| This Is How We Got Here | January 26th, 2020 – February 16th, 2020 |
| After the Fire | January 10th, 2019 – January 19th, 2019 |
| I Call Myself Princess | September 9th, 2018 – September 30th, 2018 |
| Ipperwash | February 6th, 2018 – February 18th, 2018 |
| Huff | October 16th, 2017 – October 28th, 2017 |
| Huff | October 10th, 2015 – October 25th, 2015 |
| Searching the Painted Sky | July 31st, 2015 |
| God and the Indian | May 2nd, 2015 – May 17th, 2015 |
| The Unplugging | March 14th, 2015 – April 5th, 2015 |
| A Side of Dreams | January 20th, 2015 – February 1st, 2015 |
| Something Old, Something New, Something Borrowed, Something Blue | November 12th, 2014 – November 16th, 2014 |
| ROW | August 8th, 2014 – August 17th, 2014 |
| In Spirit | March 7th, 2014 – March 16th, 2014 |
| Free as Injuns | March 1st, 2012 – March 18th, 2012 |
| Tombs of the Vanishing Indian | March 10th, 2011 – March 27th, 2011 |
| Giiwedin | April 8th, 2010 – April 24th, 2010 |
| Salt Baby | October 8th, 2009 – October 17th, 2009 |
| Almighty Voice and His Wife | March 28th, 2009 – April 12th, 2009 |
| A Very Polite Genocide or the Girl Who Fell to Earth | December 6th, 2008 – December 21st, 2008 |
| Death of a Chief | March 6th, 2008 – March 16th, 2008 |
| The Place Between | April 1st, 2007 – April 15th, 2007 |
| Annie Mae's Movement | September 27th, 2006 – October 1st, 2006 |
Presented by Native Earth Performing Arts
| | |
| --- | --- |
| bug | February 7th, 2020 – February 22nd, 2020 |
| Isitwendam (An Understanding) | March 17th, 2019 – March 31st, 2019 |
| Stitch | June 3rd, 2015 – June 14th, 2015 |
| Chocolate Woman Dreams The Milky Way | January 31st, 2013 – February 3rd, 2013 |
| Café Daughter | January 15th, 2013 – January 20th, 2013 |
| Windmill Baby | September 28th, 2006 – September 30th, 2006 |
| Frangipani Perfume | September 27th, 2006 – September 30th, 2006 |
Current Staff
Board of Directors
---