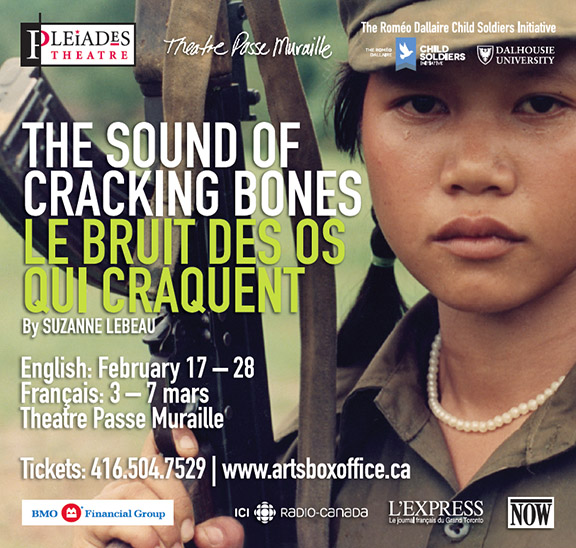 The Sound of Cracking Bones / Le Bruit Des Os Qui Craquent (2015)
Produced by
Presented by
Playwright: Suzanne Lebeau
Director: John Van Burek
Translators: Julia Duchesne and John Van Burek
Venue
Theatre Passe Muraille Mainspace

Previews
February 14, 2015, 2015
Run
March 7th, 2015 – February 28th, 2015
Synopsis
The Sound of Cracking Bones is the story of thirteen-year-old Elikia, a resilient, courageous girl who leads innocent eight-year old Joseph on a harrowing escape through the jungle toward a hoped-for freedom.
Set in a war-torn country, which could be in Africa, Latin America or South Asia, the story takes us to the very heart of Elikia and Joseph's life as child soldiers caught in the grip of ruthless warlords.
Their story is later brought to light by Angelica, the nurse who rescued and cared for them, as she testifies before a tribunal charged with examining the issue of child soldiers.
It's only because of her testimony that the reality of these children – like so many others' – is revealed to us. In turn, we see how the comfort of distance and time can dilute empathy with indifference.
Unsettling yet life-affirming, The Sound of Cracking Bones is an intimate portrayal of a global issue. (pleiadestheatre.org)
---
Cast
Creative Team
Production
Staff
---