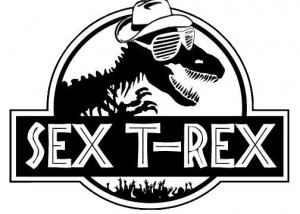 Sex T-Rex
SEX T-REX has been performing in Toronto since the ITC Cage Match free-for-all improv competition in 2008. After winning the $1000 Grand Prize they hooked up with Runner Up team The Jeremy Birrell Show, headed up by long-time friend of the group Matt Folliott, and created Sex with Jeremy; a monthly show at Comedy Bar that ran for three seasons and regularly sold-out, attracting acclaimed opening guests like Uncalled For, Picnicface, The Bitter End, Venezuela, Kerry Griffin, and more.
Our monthly variety show, Sex T-Rex & Friends, is produced in association with the Free Times Cafe.  It's our opportunity to showcase some of our favourite acts and to give new performers a warm crowd to play for.  Sex T-Rex and Friends is now in it's third, after a successful debut in 2010.
In addition to our own shows Sex T-Rex performs regularly all over Toronto and has been an official selection of the Toronto, Montreal, Ottawa, Austin & Big City Improv Festivals and the ImprovBoston Geek Week & Upright Citizen's Brigade Del Close Marathon in NYC.
(sextrexcomedy.com)
Website
---
Produced by Sex T-Rex
| | |
| --- | --- |
| Sketch T-Rex | July 7th, 2022 – July 17th, 2022 |
| D&D Live! | July 5th, 2018 – July 15th, 2018 |
| Swordplay | January 4th, 2018 – January 14th, 2018 |
| Bendy Sign Tavern | July 5th, 2017 – July 15th, 2017 |
| Wasteland | July 1st, 2016 – July 9th, 2016 |
| Sex T-Rep: Watchout Wildkat! / Swordplay | March 11th, 2016 – March 27th, 2016 |
| SwordPlay: A Play of Swords | July 3rd, 2015 – July 11th, 2015 |
| Sex T-rex Presents – Watch Out Wildkat! : Yer Dealin' with The Devil | July 3rd, 2014 – July 12th, 2014 |
| Callaghan! & the Wings of a Butterfly | July 4th, 2013 – July 14th, 2013 |
Current Staff
---